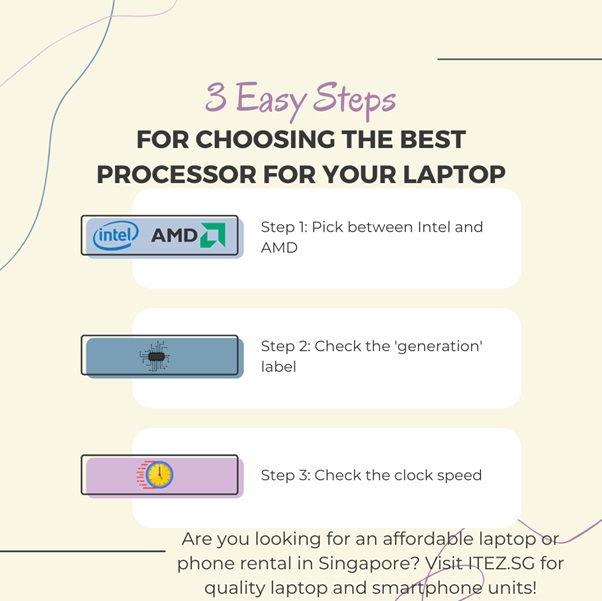 The CPU (central processing unit) is your computer's heart and core. Every high-end laptop, even an affordable tablet, has a processor responsible for processing data. It's hard to imagine our world today without these 'powerful' yet minuscule chips.
When it comes to laptops, you'll often find a handful of chipset processors. However, despite this, the choices are often confusing and endless. There are many details to look for, from clock time to cache and threads. Without further ado, here's how you can choose the 'right' processor for your laptop:
Step 1: Pick between Intel and AMD
If you're planning to buy a cheap and good laptop in Singapore, you'll likely see an Intel or AMD sticker near its touchpad. Intel and AMD are the most known processor manufacturers in the market. AMD might be your choice if you are leaning into more cores and caches while staying affordable. But if performance, platform support for PCIe 5.0 and taking advantage of DDR5 is your goal, then Intel is your pick.
Step 2: Check the 'generation' label
As much as anyone would do when buying an affordable smart phone, checking the processor label for your laptop plays a significant role. Both AMD and Intel have the identical format for identifying the processor's generation and family. The first number (i.e. Ryzen 5800) denotes the processor's 'generation' (5 being 5th gen.). On the other hand, the second number indicates the hierarchy in the family (with '4' being the lowest).
Step 3: Check the clock speed
A processor's clock speed is the indicating numerical value that determines and measures the number of cycles a CPU unit can execute per second. It tells how fast it can 'execute' instructions, and you can measure it in gigahertz (GHz). It's one of the 'main' figures you should look for in a CPU since it concerns the processing speed. The average figure for a decent clock speed is anywhere between 3.50 to 4.0 GHz above.
Are you looking for an affordable laptop or phone rental in Singapore? Visit ITEZ.SG for quality laptop and smartphone units!